JOIN CAL-ALHFA
2019 WILL BE A HUGE YEAR IN DEVELOPING AFFORDABLE HOUSING!!!!  DO YOUR PART BY JOINING CAL-ALHFA TODAY!!!
Greetings Friends and Colleagues:
In his Inaugural Address on Monday, January 7, Governor Gavin Newsom promised to develop a "Marshall Plan for Affordable Housing". On January 10 he backed up that promise with an estimated $2.35 billion of new funding proposals. The California Association of Local Housing Finance Agencies (CAL- ALHFA) is very pleased to have affordable housing and homelessness called out as priorities for the incoming administration and we would like to offer the following suggestions for inclusion in that Marshall Plan and Budget.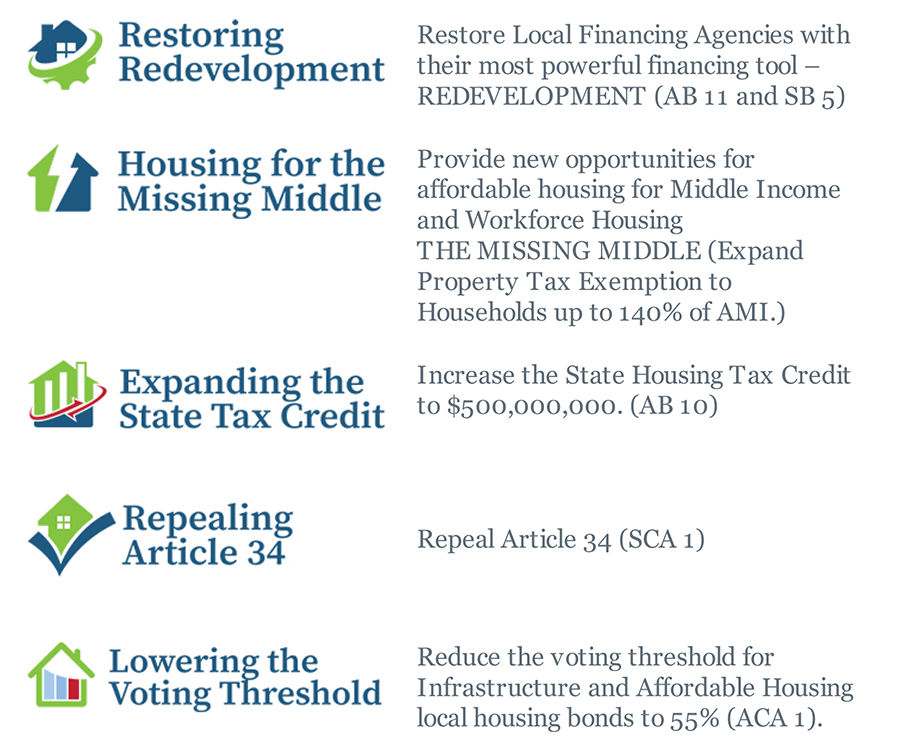 These five priorities are the crux of CAL-ALHFA's 2019 Legislative Agenda.
To get them into the Marshall Plan we pledge to support every bill that advances that agenda, and to lobby every state agency and legislature to get the job done. But to do that, we ask that you, as fierce supporters of Affordable Housing add your support to the effort by joining CAL – ALHFA today.
Never has CAL-ALHFA, as the only organization representing LOCAL HOUSING FINANCE AGENCIES, been in a stronger position to get these policies in the Marshall Plan. Your membership will only increase our strength.
BENEFITS OF CAL-ALHFA MEMBERSHIP:
If you work for a local agency (City or County planning department, housing development office, code enforcement, etc.) Housing Successor Agency, Public Housing Authority, Local Housing Trust or other public entity you will be joining the oldest housing association devoted to representing local interests from all reaches of the state in housing development in California.
If you are a developer, lender, investor, or consultant you will be associating with individuals with decision-making authority at the local level.